This frame is out of stock, but you may still purchase it. Your order will be delayed and the frame will ship when it is back in stock. We estimate this frame will return to stock Dec 15, 2023.
Design a 3/4" Black Large Bead With Shading Wood Frame
Design a custom picture frame: Choose any size, upload your favorite pictures, select a backing, plexiglass and up to three mat layers, all of which can be custom cut to your exact needs.
Build your frame
Frame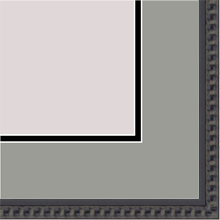 3/4" Black Large Bead With Shading Wood picture frame