Shop Our Quality Custom Cut Picture Frames
We have everything you need to build a custom picture frame on framesbymail.com. Choose from thousands of custom high quality picture frame mouldings available for wood picture frames, metal picture frames, and valucore picture frames. Use our custom frame shop to design a frame custom cut to your specific needs and select from our diverse mats and picture frame configurations. We offer frames in almost any size to the nearest sixteenth inch cut.
At FramesByMail.com, we empower you to design the perfect picture frame to showcase your cherished memories or artwork. Our intuitive online platform allows you to embark on a personalized journey, where you have complete control over every aspect of your frame. Whether you prefer the timeless elegance of Wood, the sleek modernity of Metal, or the budget-friendly versatility of ValuCore picture frames, we offer a wide selection to match your style.
One of the standout features of FramesByMail.com is our commitment to customization. You have the freedom to choose any size for your frame, ensuring that it perfectly complements your artwork or photo. Moreover, you can decide whether to include a printed photo or not, tailoring your frame to your specific vision. We understand the importance of preserving your treasured memories, which is why we offer a variety of backing options and plexiglass to protect your artwork from dust and damage.
We understand that matting plays a crucial role in enhancing the overall aesthetics of your framed piece. That's why we give you the freedom to choose between 1, 2, or 3 mat layers in any size you can imagine. This level of personalization ensures that your custom frame will not only protect your artwork but also elevate its visual impact. Start designing your one-of-a-kind frame today and transform your artwork into a masterpiece with FramesByMail.com!
Wood Picture Frames
Featured Wood Frame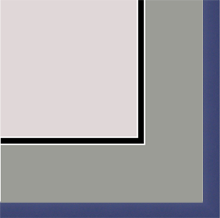 3/4" Admiral Blue Cube Frame
Step into a world of captivating calm and sophistication with our 3/4" Admiral Blue Cube Picture Frame. As a part of our Vibrant Colors Picture Frames collection, this frame offers a compact canvas for your cherished artwork that embodies the serene depths of the ocean. The Admiral Blue hue is a serene and timeless choice, making it the perfect selection for showcasing art that exudes elegance and depth. This Frame is more than just a frame; it's an invitation to explore the serene horizons of creativity and sophistication. Whether you're displaying miniature art, photographs, or treasured mementos that tell a compelling story, this frame transforms your living space into a gallery of elegance and creative expression. Welcome the tranquil depths of the ocean into your decor with the 3/4" Admiral Blue Cube Picture Frame.
Custom wooden picture frames are the perfect option for hanging just about anything! Go modest or make a statement with our variety of dark wood tones, bright oak mouldings and gold ornate frames. You are sure to find exactly what you are looking for in a wooden picture frame among our diverse frame selection!
Browse wood frame categories